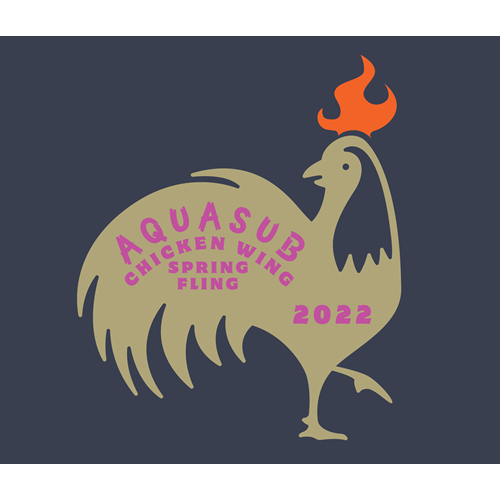 AquaSub Scuba Diving Centre
June 3/4 - Tobermory Chicken Wing Spring Fling
Stock No. AS-TOBY-WINGWKND
Join Aquasub for an Advanced diving weekend that includes an ALL-YOU-CAN-EAT chicken wing dinner on Saturday night! This trip includes accommodation on Friday and Saturday nights as well as two dives Saturday and Sunday mornings as well as dinner on Saturday night consisting of mountains of chicken wings, fries and more.
CONTEST!! Think you make a good wing sauce? All guests are invited to submit there best wing sauce (homemade!) and there will be a blind sampling of sauces - winner gets a great Aquasub prize package. Read the rules here: https://www.aquasubscuba.com/en/chicken-wing-spring-fling-contest-rules
The Advanced Diver Charters will features dives that require a minimum certification level of Advanced Open Water Diver and experience diving colder temperatures in depths as that can reach depths of 130 feet.
All certifcations will be checked at time of bording the charter and no refunds will be issued for divers that have reserved spots on charters for which they are not certified for.
Skill Level: Advanced Open Water Diver Or Above Number of Dives: Four (Two Saturday AM / Two Sunday AM)
Features: Warm food on board (soup, hot chocolate, coffe), Saturday Night BBQ
Bathroom Onboard: Yes
Departure Location: Tobermory Harbour Vessel: Deep Obsession
Loading Time: 7:30 AM Departure Time: 8:15 AM Sharp
Returning to the dock: Between 12:00 PM and 12:30 PM
Recommendations: A 7mm wet suit or a dry suit are needed.
Other: All divers require a Park Pass to dive in Tobermory ($5 per day or $20 for the whole season).
All divers must complete a charter waiver to participate: http://www.diversden.ca/
Saturday Night All-You-Can-Eat Chicken Wing Festival! This weekend is our spring kick-off and we are having a feast of all-you-can-eat chicken wings PLUS there will be a contest for the BEST chicken wing sauce. This dinner is included in the cost of your weekend trip as is the entry to the contest so break out your best recipe and bring your best homemade sauce with you. All guests will be voting on a blind taste test for the sauces entered. The winners will get an Aquasub Prize Package and bragging rights until next years contest. Who will be the wing sauce champion of Tobermory? Maybe you!
Friday Night Fish Fry! Every Friday night of our Tobermory weekends we go out for dinner. If you can get up earlier in the day, you are invited to join us at The Fish and Chips Place in downtown Tobermory for a feast of Georgian Bay Whitefish. We meet at the lodge for a drink and head to the restaurant for 7:30 PM.
National Park Dive Permits: All divers in Tobermory are required to have a park pass to dive. They are available at the Visitors Centre and are available for the day or as an annual pass.
Dive Tobermory Trip T-Shirts: Get your Dive Tobermory trip shirt for only $20. Available in ladies and unisex sizes. Be sure to order yours ahead of time to be sure your size is available.
Customers Who Viewed This Item Also Viewed