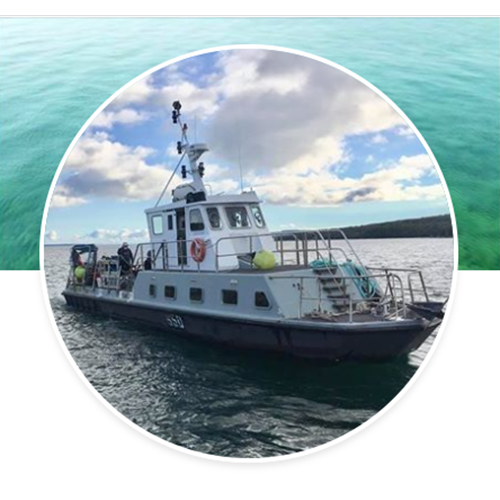 AquaSub Scuba Diving Centre
August 15th, 2021 - Georgian Explorer 3 Dive Day
Stock No. GEORGIAN BAY
Starting May 15th, 2021 and running through October, Aquasub has day trips available on the Georgian Explorer.
These 3 dive day trips visit some of the most popular dive sites in southern Georgian Bay, like the Marquette, Maple Dawn and Michigan. The sites are all relatively shallow and suitable for divers of all skill levels.

These trips include a light breakfast, hot and cold drinks all day and a hot lunch.
One of the most popular trips of the summer, pick your dates now and don't miss out!
Skill Level: All Divers Number of Dives: Three
Features: Light Breakfast, Hot and Cold Drinks All Day, Hot Lunch Provided
Bathroom Onboard: Yes
Departure Location: Penetanguishene Town Dock, 2 Main Street, Penetanguishene, Ontario
Loading Time: 7:30 AM Departure Time: 8:00 AM Sharp
Returning to the dock: Between 4:00 PM and 5:00 PM
Recommendations: A 7mm wet suit or a dry suit are needed.
Other: Alcohol is permitted on board, but not provided. No diving is permitted after ANY alcohol is consumed. The boat ride back to port after the last dive is approximately 2 hours.
All dive sites are weather dependant.
Maple Dawn:
Marquette:
Michigan:
Lottie Wolf:
There are alternate sites that may be included if high winds make the above sites untenable.
Penetanguishene is about 1:45 from Aquasub and is close enough that keen divers can drive up in the morning and home at the end of the dive day.
If you are thinking about spending the night, the Aquasub Staff stay at the Comfort Inn at 980 King Street in Midland, Ontario. The Comfort Inn is within walking distance of a handful of restaurants and is a 15 minute drive from the departure point in Penetanguishene.
The dive sites are great for underwater photography, featuring both abundant fish life and plenty of wreckage to capture.
Dive Georgian Bay Trip T-Shirts: Get your Dive Georgian Bay trip shirt for only $20. Available in ladies and unisex sizes. Be sure to order yours ahead of time to be sure your size is available.