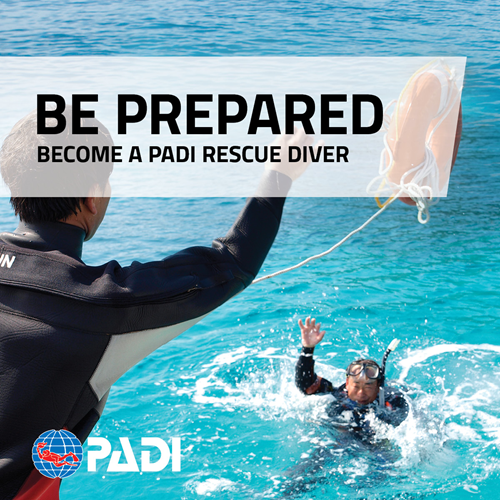 AquaSub Scuba Diving Centre
Rescue Diver Full Course
Stock No. ASDC0003
Scuba divers describe the PADI Rescue Diver course as the most challenging, yet most rewarding course they've ever taken. Why? Because you learn to prevent and manage problems in the water, and become more confident in your skills as a diver, knowing that you can help others if needed.
During the course, you learn to become a better buddy by practicing problem solving skills until they become second nature. Plus, the course is just fun – it's serious, but still allows for lots of laughter in between the focused learning. PADI (Junior) Adventure Divers who are at least 12 years old and have completed the Underwater Navigation Adventure Dive may enroll in a Rescue Diver course.
You also need to have Emergency First Response Primary and Secondary Care (CPR and First Aid) training within the past 24 months. You can complete this training during the Rescue Diver course. Your instructor may also offer the PADI Emergency Oxygen Provider specialty diver course at the same time.
To be certified as a PADI Rescue Diver you must:
- Be a PADI Adventure Diver or Advanced Open Water Diver
- Be at least 12 years old
- Complete a Medical Questionaire
- Have completed an EFR Primary and Secondary Care course or equivalent First Aid and CPR course within the last 24 months.
We also recommend but do not require that you have completed the PADI Emergency O2 Provider Course to round out your rescue response skill set.
---
eLearning Pre-Study

Wed 03 Jan 2024
Richmond Hill

Paperwork, Orientation and Review

Sat 13 Jan 2024
14:30
02 hours 00 minutes
Richmond Hill
Pool Session

Sat 13 Jan 2024
17:00
02 hours 00 minutes
Richmond Hill

Open Water - Full Day

Sun 14 Jan 2024
09:00
05 hours 00 minutes
Richmond Hill
31 Dec 2024 | 100 | 91
When you have decided when you want to schedule your pool training, simply call the shop at 905-883-3483 and we can move you to the appropriate class!
eLearning Pre-Study

Fri 31 Dec 2021
For Future Selection
Paperwork, Orientation and Review

Fri 31 Dec 2021
14:30
02 hours 00 minutes
For Future Selection
Pool Session

Fri 31 Dec 2021
17:00
02 hours 00 minutes
For Future Selection
---
Customers Who Viewed This Item Also Viewed