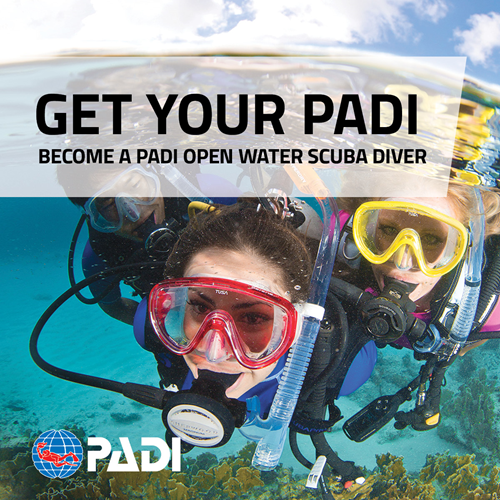 AquaSub Scuba Diving Centre
Open Water Diver Complete Course
Stock No. ASDC0001-P
The PADI Open Water Diver course is your ticket to a lifetime of underwater adventures.
There are three components required to complete your certification:
eLearning Independant Study
Confined Water Training (pool training)
Open Water Training (four dives over two days in an open water environment)
Your Open Water Training Dives can be completed locally with us in places like Tobermory, away with us on one of our many group scuba trips or while on your own vacation almost anywhere in the world.

If you've always wanted to take scuba diving lessons, experience unparalleled adventure and see the world beneath the waves, this is where it starts. Get your scuba diving certification with the PADI® Open Water Diver course – the world's most popular and widely recognized scuba course. Millions of people have learned to scuba dive and gone on to discover the wonders of the aquatic world through this course. To enroll in a PADI Open Water Diver course (or Junior Open Water Diver course), you must be 10 years old or older. You need adequate swimming skills and need to be in good physical health. No prior experience with scuba diving is required.
In the PADI Open Water Diver course, you learn to use basic scuba gear, including a mask, snorkel, fins, regulator, buoyancy control device and a tank. The equipment you wear varies, depending upon whether you're diving in tropical, temperate or cold water.
Your scuba gear for the pool training is included in the course fees.
Personal gear consists of your mask, snorkel and fins and these items should fit well to prevent leaks and comfortable to wear so students are required to supply their own.
We have a wide variety of masks, fins and snorkels available for purchase in the shop on in our online store.
To enroll in the PADI Open Water Diver course you must:
- Be at least 10 years old
- Complete a Medical Questionaire
- Be a moderately skilled swimmer and be comfortable full immersing your face underwater
During the course you must complete:

- a 10 minute water tread/float

- an any style, continuous swim of 200m with no time limit
---
February 2023
Mon
Tue
Wed
Thu
Fri
Sat
Sun

1

2

3

4

5

6

7

8

9

10

11

12

13

14

15

16

17

18

19

20

21

22

23

24

25

26

27

28
---
Customers Who Viewed This Item Also Viewed